What is Instagram?
Instagram is a photo and video sharing social networking service. Users upload media that can be edited with filters and organized by hashtag and geographical tagging. Posts can be shared publicly or with preapproved followers. There are several dangers associated with Instagram outside of communicating with strangers. The type of content (including targeted ads and posts) that regularly appears on someone's feed is dependent on who they follow, but children can easily access mature or inappropriate content on the platform.
Risks
According to a 2017 report called #StatusOfMind from the Royal Society for Public Health (RSPH) and Young Health Movement (YHM) in the United Kingdom, Instagram was rated the worst social media app (compared against Facebook, Snapchat, Twitter, and YouTube) for young people's mental health.
Youth can experience depression, body image concerns, self-worth issues, social anxiety, and other health problems that result from massively unrealistic standards.
Health issues stem from wanting likes, followers, and photoshopping to alter a person's face or body.
There is no age-verification, which makes it easy for children under 13 years old to create an account.
According to Familyzone.com, it takes less than 30 seconds to find pornographic images on Instagram.
Accepting friend requests from strangers potentially exposes youth to dangerous situations.
Online predators create fake profiles to connect with minors.
Links can be used to potentially hack into someone's account.
Anyone can go live on Instagram, which can potentially expose them to predators, bullies, and other inappropriate comments/messages.
Instagram notifies followers whenever someone goes live.
Accounts are public by default and privacy settings can't be locked.
People can record a livestream and save the video on a device—similar to taking a screenshot of a picture.
Drug dealers can market drugs to children by using stories or posts that disappear after a set time.
Fake prescription pills and other drugs containing fatal doses of fentanyl or methamphetamine have been sold to unsuspecting youth.
Posts can use a combination of words and emojis coded for different drugs. The Drug Enforcement Administration (DEA) has created a reference guide about how emojis can be used to advertise drugs.
What is NGL?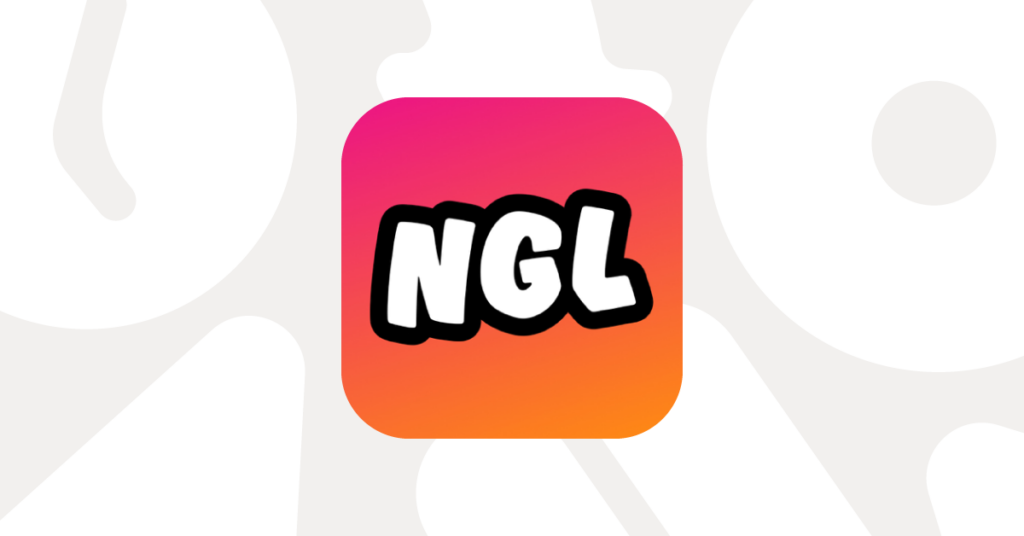 NGL (an abbreviation of Not Gonna Lie) is a new app that allows users to send and receive anonymous messages.  After downloading the app, users are provided with a unique URL that can be shared on their social media (such as Instagram).  After SnapChat banned anonymous apps, NGL shifted its focus to Instagram because there are fewer protections to reduce harm to minors on the platform.  Responses are received by the user in their NGL inbox without revealing the sender's identity.  NGL tries to set itself apart from other apps by utilizing artificial intelligence to filter out inappropriate content, but this app is still riddled with the same mental health challenges presented by anonymous messaging services.
Risks
Language filters intended to be helpful may not prevent certain phrases from being delivered.
Phrases like "You're fat," "Everyone hates you," "You're a loser," and "You're ugly" can slip through undetected, and slang terms are typically not blocked by filters.
Cyberbullying and harassment have resulted in increased suicide rates. According to the CDC, suicide was the second leading cause of death for people aged 10-14 and 25-34.
NGL previously sent fake messages to users, which artificially inflated engagement and tricked users into thinking their posts were seen by more people than those who actually viewed them.
NGL charges $6.99/week to reveal "hints" about the sender—even if the messages are sent by NGL.
In a 2022 update, NGL started to identify those fake messages as "sent with ❤️ from the NGL team."
Recommendations


For youth under 16 years old, the default account setting is private so only people you approve can see what you post.  Minors should keep their profiles private to reduce the risk of predators trying to connect and inappropriately communicate with them.  Instagram also has additional privacy settings to only allow followers to comment, block comments from certain people, hide offensive comments, control who can reshare your posts, and create filters for specific words and phrases.
We strongly encourage parents to talk with their children about the dangers of inappropriate content as well as health problems associated with social media.  Rates of teen social anxiety and depression are on the rise, and comparing ourselves to others on social media only increases anxiety and depression.  According to internal research from Meta (the company who owns Facebook, Instagram, and WhatsApp) that was kept secret until the information leaked in 2021, Instagram makes body image issues worse especially for teenage girls.  Apps like NGL that enable anonymous messages can also negatively impact youth's mental health.  It's important to evaluate how social media makes you feel before, during, and after using it.  If youth are finding themselves negatively impacted, it can be beneficial for them to take a break and focus on their self-worth.
Through our iRespect&Protect community campaign, we have a tools and resources available online for kids, teens, parents/caregivers, and organizations.  We are here to provide support and assistance to parents talking to their children about online safety.  In addition to our Conversation Starters, we also have a Model This, Here's Why resource that outlines three simple ways adults can model healthy digital choices for youth.
Want To Learn More?
For more information about Instagram, check out Common Sense Media's Parents' Ultimate Guide to Instagram.  For more information about NGL, check out Bark's What Is NGL and Is It Safe? article. Other relevant articles and videos are included in the sources listed below.
Sources
https://www.rsph.org.uk/our-work/campaigns/status-of-mind.html
https://www.familyzone.com/anz/families/blog/instaporn
https://protectyoungeyes.com/apps/instagram-parental-controls/
https://www.bark.us/blog/instagram-slang/
https://www.commonsensemedia.org/videos/what-is-instagram
https://www.youtube.com/watch?v=xnW7MSrlX_U
https://www.npr.org/2021/12/08/1062576576/instagrams-ceo-adam-mosseri-hears-senators-brush-aside-his-promises-to-self-poli
https://www.youtube.com/watch?v=1exiUZncNnA
https://www.youtube.com/watch?v=1Ki7d_R-t60
https://www.commonsensemedia.org/articles/parents-ultimate-guide-to-instagram
https://www.theguardian.com/technology/2021/sep/14/facebook-aware-instagram-harmful-effect-teenage-girls-leak-reveals
https://www.youtube.com/watch?v=l0KGCHoEWuo
https://www.bark.us/blog/what-is-ngl-and-is-it-safe/
https://www.nytimes.com/2022/07/18/style/ngl-app-anonymous.html
https://www.nbcnews.com/tech/internet/ngl-anonymous-message-app-instagram-tests-link-bullying-rcna36152